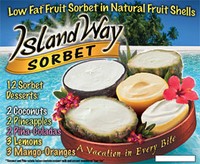 Here's another cool treat found at Costco: Island Way Sorbet. According to its motto, this product features "A Vacation in Every Bite," and that's no exaggeration. We bought these at the beginning of our muggy month of June, and we truly felt like we were on an island getaway!

The best part is that this dessert comes in REAL fruit shells! The Coconut Sorbet is packaged in a coconut shell, the Lemon Sorbet comes in a lemon half, and the Pineapple Sorbet is presented in a pineapple skin. The company creates many flavors, and Costco sells an assorted box of Mango Orange, Lemon, Coconut, Pineapple, and Pina Colada (non-alcoholic).
Critiques: All the flavors are heavenly. Lily likes the zesty lemon, but Ellie's favorite is the Pina Colada. The sorbet has a velvety smooth texture and tastes like real fruit. We have served these tasty treats to adults and children and received rave reviews each time!
At Costco, a box of 12 assorted Island Way Sorbet desserts is sold for 14.99. Click here for the company's website.


Ratings:
Lily:
*****
Ellie: **

*

**